August 2nd, 2016 | By Lance Hayes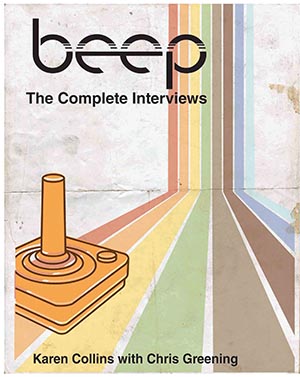 I'm very proud to be featured in the new book Beep: A Documentary History of Game Sound! A labor of love for Karen Collins and Chris Greening that has spanned half a decade of work and dozens of interviews with the top game audio talent of this and previous generations. Here's more info from the Beep site:
The Beep Book is transcripts of interviews with over 100 game audio professionals from a range of areas of game sound's history. The majority of the interviews were conducted as part of the Beep documentary film project by director and author Karen Collins. These are supplemented by interviews done for Video Game Music Online by Chris Greening. The book is ~410,000 words in length–a huge volume of material spanning decades of video game and pinball audio history. Interviews include artists such as Marty O'Donnell (Halo), George "The Fat Man" Sanger (7th Guest), Nobuo Uematsu (Final Fantasy), Yoko Shimomura (Kingdom Hearts), and many, many more. The interviews aim to explore the changing nature of game audio over time. Interviews are with people from all over the world, including Japan, USA, Canada & Europe, and took place from October 2014 to July 2016. They cover a range of expertise and experience levels, and include composers, sound designers, voice actors and directors, record labels, conductor, orchestrators, chip musicians, hardware and software creators, and more. 
If you'd like to check out my input, head over to Volume 1 page 215. Truthfully the whole thing is a marvel of deep dives and forward thinking that spans the entire history of games. A worthwhile read for the game audio enthusiast as well as students and anyone interested in hearing from a unique perspective on the development of the video games that have shaped our lives.
Beep is currently available on Amazon.