December 3rd, 2013 | By Lance Hayes

Whew, the title "McDonald's Forza Xbox One Ad Campaign" is quite a mouth full. If you have a TV and live in the US then you may already seen the ads featuring a section of my track "Compression" from the Forza Motorsport 5 OST. It's currently being used as the background in the McDonald's Xbox One / Forza commercial titled "Legacy – Racing" as part of a prize give away including thousands of Xbox One consoles.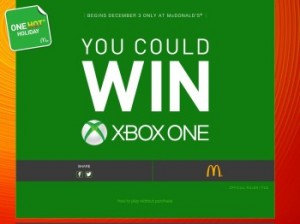 The ads, in :15 and :30 versions, will undoubtedly be running nearly constantly between Dec. 3rd till the 23rd so give a shout if it comes across your screen.
As usual, there is more at Facebook and Twitter if you want the latest info.
Cheers!